Cuisine
,
Destination Articles
The culinary diversity in Istanbul is as great as the number of people living there (17 million people!).  Here, I will highlight a few that changed my life.
At every restaurant you arrive at, you will need to order 'chai', or tea.  While coffee is common, tea is more so.  It is served in little pear shaped glasses, and you can milk and sugar, or drink it straight.  Call it 'chai'.
Kunefe: The second I put a spoonful of this tantalizingly delicious dessert in my mouth I knew I would never be the same.  It was sweet from the honey and rose water on top and savoury from the melted goat-like cheese on the inside.  The cheese was surrounded by crunchy Kadayif dough that melted in my mouth.  All of this was topped off with crushed pistachios and real cream.  The first time I ate this was as a dessert, however it can be made into a breakfast.  Instead of the syrup on top, they add tomatoes and herbs.  Regardless of the way in which you have this, it will change your life forever.
Baklava: Pistachios, sugar syrup and dozens of layers of the thinnest phylo pastry you can imagine make up this popular and decadent dessert. I was advised to never purchase the boxes sold to tourists. Baklava is always better fresh. If you are able to watch them make it behind the counter, that is better. Once you have Baklava in Turkey, you will never be able to have it anywhere else.
Traditional Breakfast:
Skip the free breakfast at your hostel and eat out. I found a café that had Breakfast Kunefe and I have never been the same since. It was fantastic. Not sweet, but filled with tangy cheese and chopped tomatoes on top.
It is quite typical for Turkish people to have a plate of various little dishes on it, like the one pictured below.  I am glad my tour guide brought me to this place.  It was a meal that altered my life and I haven't been the same since. In a good way.  The cheese was fresh, the olives were delicious and I have never had fresh cream and honey before!  The side jam was for the bread, tomatoes and cucumber make up a light salad, and a mini omelette for extra nutrients.  Free breakfasts at hostels can save quite a bit of money, so I understand why people do it.  That is why i do it.  However pick one or two days to have breakfast out.  You will not regret it.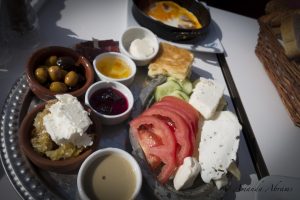 Finally fresh squeezed Pomegranate juice from a food vendor.  Pomegranate's harvest season, between September and February, is the time you will see every vendor selling a glass.  Nothing added, just the juice from a giant hand press.  If they weren't so heavy, I would have brought a juice press back for myself.  Have it any time of the day, but do try it.  It is one more culinary sensation that will change your life forever.