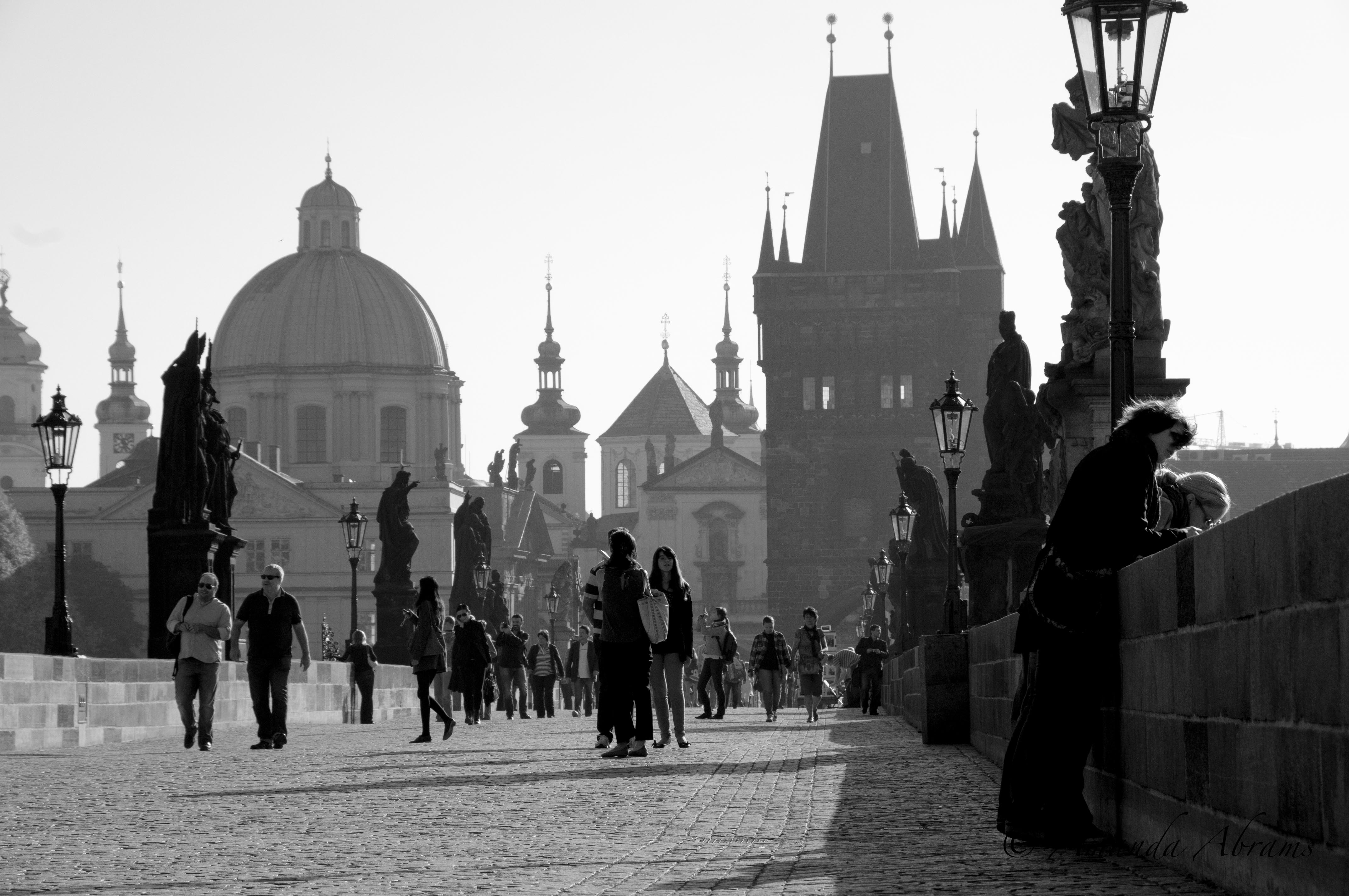 Destination Articles
Praha, or Prague, Czech Republic. If you go, you will call it Praha too. Busy with tourists since becoming the not so hidden 'hidden gem' of Eastern Europe, this city is medieval feeling and still maintains all of the modern comforts.
This is a city you can walk around for hours, and never tire of what you see. Red roof tops, stone work, statues and spires, nestled among fluffy trees are what you observe as you wander across bridges and ascend to the top of hills.  Down below, lining the Vltava river are artists selling dramatic paintings of the city, quaint and classy jewellery and the ever present pashmenas. I recommend buying a painting of the city, as none of your photos will seem to do it justice.
Cross Charles Bridge early in the morning, not just to avoid the crowds, but because the light is the most dramatic at that time. Stop and investigate each statue along the bridge, and take your time walking up to the Castle. Each building seems to hold it's own story of mystery and intrigue. Once at the top, stop and look around. Imagine what the city looked like 500 years ago….probably similar to what you see now. This city is timeless.
The Castle is the largest castle complex in the world.  Archeological finds indicate a castle has been on this hill since the 9th century, however this Castle met it's high point during the 14th century, during the reign of the Holy Roman Emperor Charles IV. Set aside at least half a day, if not a full day, to do it justice. The Royal Palace, the Gothic St. Vitus Cathedral, St. George's Basilica, and Golden Lane are some of the major sites in the complex.
After your saunter through the Castle complex, wander back down, slowly, and be sure to stop by the lovely Baroque style Church of St. Nicholas. Then continue down to the famous Astronomical clock. Make sure it is at the top of the hour, so you can hear the eery, old world show. Not meant for time keeping, this ancient attraction marked the moon phases, seasons and Christian holidays. This is Old Town Square. Walk along Narodni street to Wenceslas Square. This quaint walk is filled with modern shops in old style buildings, along cobble stone streets. This is a perfect stroll back to your hotel after an enchanting day.
When you travel, travel for you. In Praha, I was told to see a black light puppet show. I didn't want to. I saw a Mozart concert, which was entertaining. Jazz music and photography are my passion. I walked over Charles Bridge 5 times in 5 days, took hundreds of photos, and went to 4 jazz concerts in 2 nights. Jazz is universal, and doesn't require knowing the language, which is why I try to see it everywhere I travel.  The jazz is saw at Jazz Dock, on the Castle side of Vltava river, Blue Sklep Jazz, Jazz Reduta and USP Jazz Lounge was all superb and the atmosphere at all of these establishments was wonderful.  Bonus, all were walking distance apart.
Definitely see Praha.  It will amazing, inspire and enchant you, all at once, as it did for me.